Thermage
Consultations offered at our two convenient locations in Buena Park and Cupertino, CA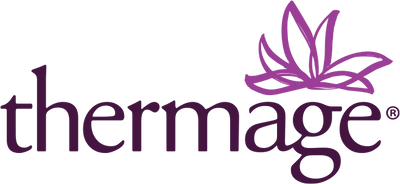 Thermage is a state-of-the-art skin tightening device that uses radio-frequency technology to gently but effectively stimulate new collagen production in the skin's inner structure. This influx of new collagen fibers revitalizes the skin's elasticity.
Over the days following a Thermage treatment, patients notice a gradual decline of wrinkles, fine lines, and loose skin around the treated areas. Their skin begins to appear younger, brighter, and less blemished by common signs of aging. Since Thermage is one of the most studied and published tissue tightening devices on the market,[1] it has become a staple to many of our patients' skincare routines. If you would like to see how Thermage can lift away your troublesome wrinkles, fine lines, and loose skin, please schedule a consultation at our offices in Buena Park or Cupertino. Here, we will determine if Thermage or one of our many other services is right for you. If you would like to speak with us directly, please call (714) 224-9010 to reach our Buena Park location, or (408) 663-8701 to reach our Cupertino offices.
About Radio-Frequency
When treating skin laxity, radio-frequency technology is a popular method and used in many procedures. The radio-frequency in the Thermage device produces thermal energy. When this thermal energy is applied to the skin, it heats up deep dermal tissue to the point of creating a controlled amount of gentle damage to the inner structures of the skin. Once the body registers these small injuries, it generates restorative, healing properties to help repair the affected tissue.[2] Collagen, elastin, and growth factors combine at the treated areas to rejuvenate the skin's inner layers. Over time, the collagen fibers will grow more tensile and taut, causing the overlying skin to smoothen. This process is what improves the appearance of wrinkles, fine lines, and loose skin.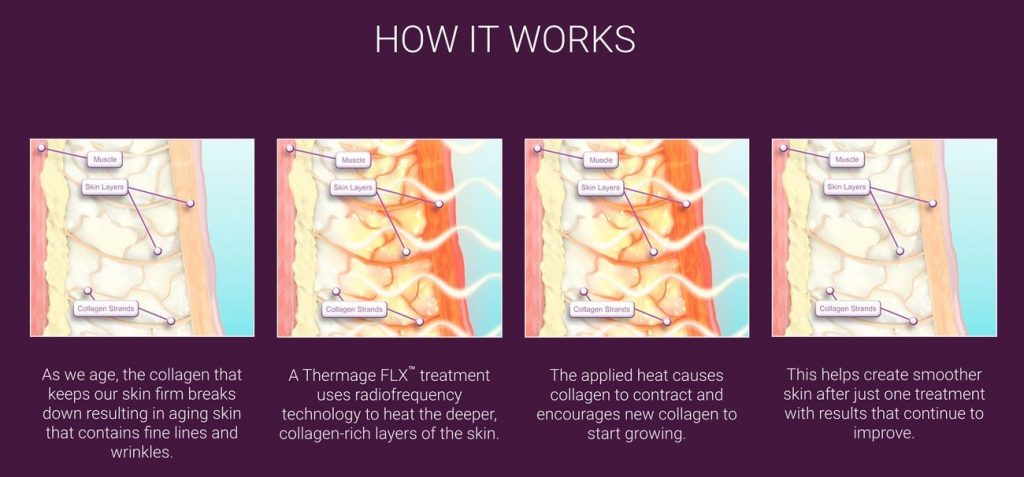 Benefits
Thermage has an extremely high rate of satisfaction, and even after one treatment, patients are delighted because:
There's no downtime necessary
It provides genuine, long-lasting results
It's a simpler, non-surgical alternative to a facelift
It can work on all skin types, unlike other radio-frequency devices
It can be used to treat wrinkles, fine lines, and loose skin around the face, neck, and body
Its quick and easy application
If you would like to see how Thermage can rejuvenate your skin and revitalize your appearance, please schedule a consultation at our Buena Park offices today!
Personal Consultation
Our initial consultations begin with a brief physical examination and a new patient intake interview. Then, we will examine your trouble spots. This could include marionette lines, smile or frown lines, vertical wrinkles on your lips, or crow's feet at the corners of your eyes. Thermage is also an effective treatment for crepey skin on the abdomen or knees. Because every patient is different, we will examine your skin's unique condition and treat you accordingly. We may recommend other services like injectables to erase mild to moderate signs of facial aging. Then, we will explain how Thermage works and what you can expect in terms of treatment and recovery. If Thermage is the best procedure for you, we will schedule a time and date for your session. Before and after your Thermage session, you will need to avoid unprotected and prolonged exposure to UV rays. Also, please come to your session without any makeup or skincare products. 
Procedure
Before your Thermage treatment, we will review your target areas and answer any questions you may have. Then, we apply a topical anesthetic cream to your target areas. Then, we will run the Thermage device over your fine lines, wrinkles, and loose skin. For some, we may only need to make one pass over. However, others may require an additional pass. Once we have addressed all of your target areas, we will cleanse your face, and you will be free to jump back into the current of your daily routine.
Recovery & Results
It is important to avoid sunlight exposure because your skin will be sensitive after a Thermage treatment. Over the next couple of days and weeks, you will notice your skin is tighter and smoother. Many of our patients elect to have Thermage sessions every couple of years to keep their results looking young and spry!
Cost
Since all patients' skin ages differently, the amount of care and treatment your signs of aging require will be unique. The price of your Thermage session will reflect this. During your consultation, we will discuss your personalized treatment plan and how much your treatment at 17 Med Spa will be. If you would like to discuss pricing or learn about our financing options, please do not hesitate to call us directly.
Buena Park: (714) 224-9010
Cupertino: (408) 663-8701
References
(2010). Update on tissue tightening. The Journal of clinical and aesthetic dermatology, 3(5), 36–41. https://www.ncbi.nlm.nih.gov/pmc/articles/PMC2922712/
Araújo, A. R., Soares, V. P., Silva, F. S., & Moreira, T. (2015). Radiofrequency for the treatment of skin laxity: myth or truth. Anais brasileiros de dermatologia, 90(5), 707–721. https://doi.org/10.1590/abd1806-4841.20153605