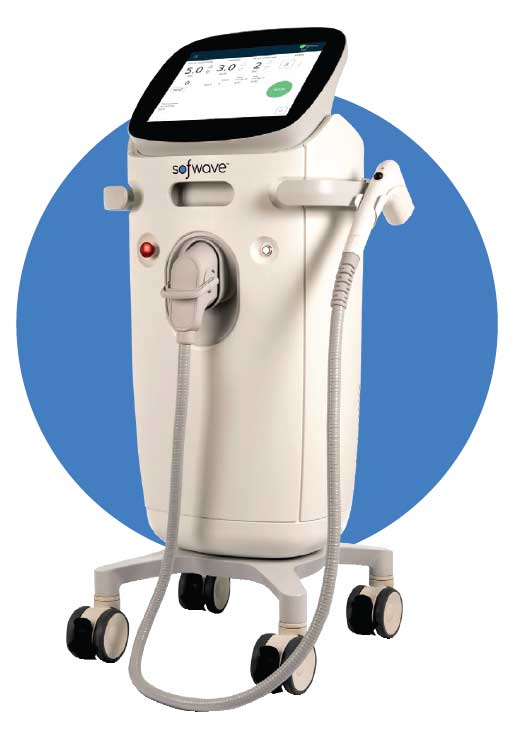 Sofwave is a treatment that uses Ultrasound technology to lift and tighten sagging skin on the face and neck. This treatment requires minimal downtime, with a single session lasting between 30-45 minutes. All skin types can benefit from this groundbreaking technology for a stunning, youthful complexion. Is sagging, wrinkled skin giving away your age? Sofwave delivers results that excite!
Patients in Cupertino, California, can experience the benefits of the Sofwave system for themselves at 17 MedSpa. Our team is dedicated to helping you feel your best through the latest technological advances in aesthetic improvements. We provide laser treatments, injectables, and specialized skincare products to enhance and maintain your natural beauty. Our focus is on delivering the highest standard of care to ensure you are satisfied with your experience. To find out why our patients keep coming back for more, call (408) 663-8701 in Cupertino. You can also fill out our contact form to get started with your consultation appointment.
About SofWave

Sofwave is a treatment that has received clearance from the FDA and has been clinically proven to improve the appearance of facial lines and wrinkles and lift sagging skin. This is achieved through remodeling collagen, a protein that provides structure and support to the skin.
Sofwave uses a proprietary technology called SUPERB, or Synchronous Ultrasound Parallel Beam, which delivers ultrasound energy to the mid-dermal layer of the skin. This energy is carefully controlled to create a thermal effect. By heating the precise depth of the skin to the right temperature, collagen fibers are revitalized, improving the overall appearance of the skin. The ultrasound energy passes through the skin's surface (the epidermis) to reach the deeper layers, making this a non-invasive treatment option.
Sofwave has an integrated cooling mechanism called Sofcool that helps to protect the uppermost layer of skin from damage. The treated areas of the skin stimulate a healing response called neo-collagenases, which helps to increase and regenerate collagen in the skin.
How Does Heat Rejuvenate Collagen Fibers?
When the mid-dermal layer of the skin is heated to a certain temperature, it can cause the collagen fibers to contract and then subsequently rebuild, producing new collagen. [1] This process of collagen remodeling can help improve the appearance of fine lines and wrinkles and tighten and firm the skin. It is important to note that the precise temperature and duration of heat exposure required to stimulate collagen production may vary depending on the specific treatment being used.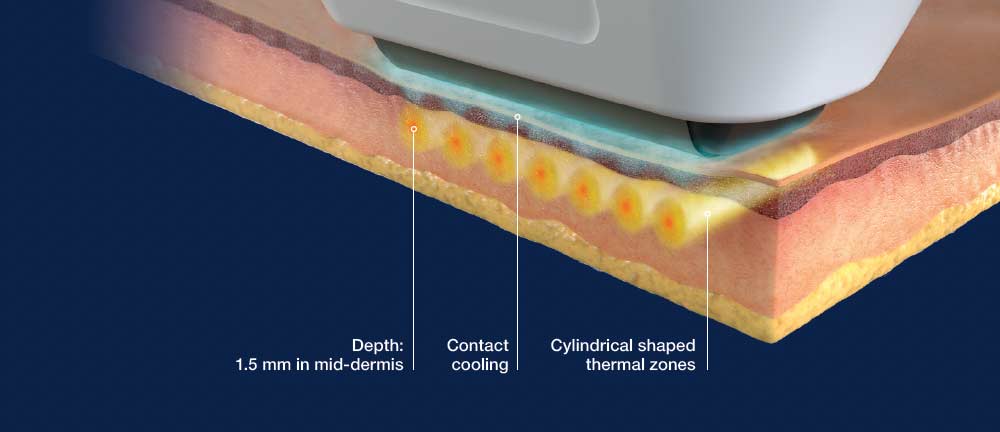 Collagen and Your Skin
As we age, our bodies produce less collagen and elastin, proteins that give our skin structure and elasticity; this can lead to wrinkles and a loss of firmness in the skin. In addition to the natural aging process, other factors can contribute to the breakdown of collagen in the skin. These include
Exposure to UV radiation from the sun
Pollution
Smoking
Certain medications
Medical treatments
When collagen fibers break down, the skin may become less supple and more prone to wrinkles and sagging.
Is Sofwave Safe For All Skin Types?
People with darker skin tones may be at a higher risk of experiencing burns when using certain light-based therapies. However, ultrasound treatments are safe and effective for people of all skin types, including those with darker skin. This is because ultrasound energy does not rely on light to penetrate the skin and therefore does not carry the same risk of burns as other skin treatments. [2]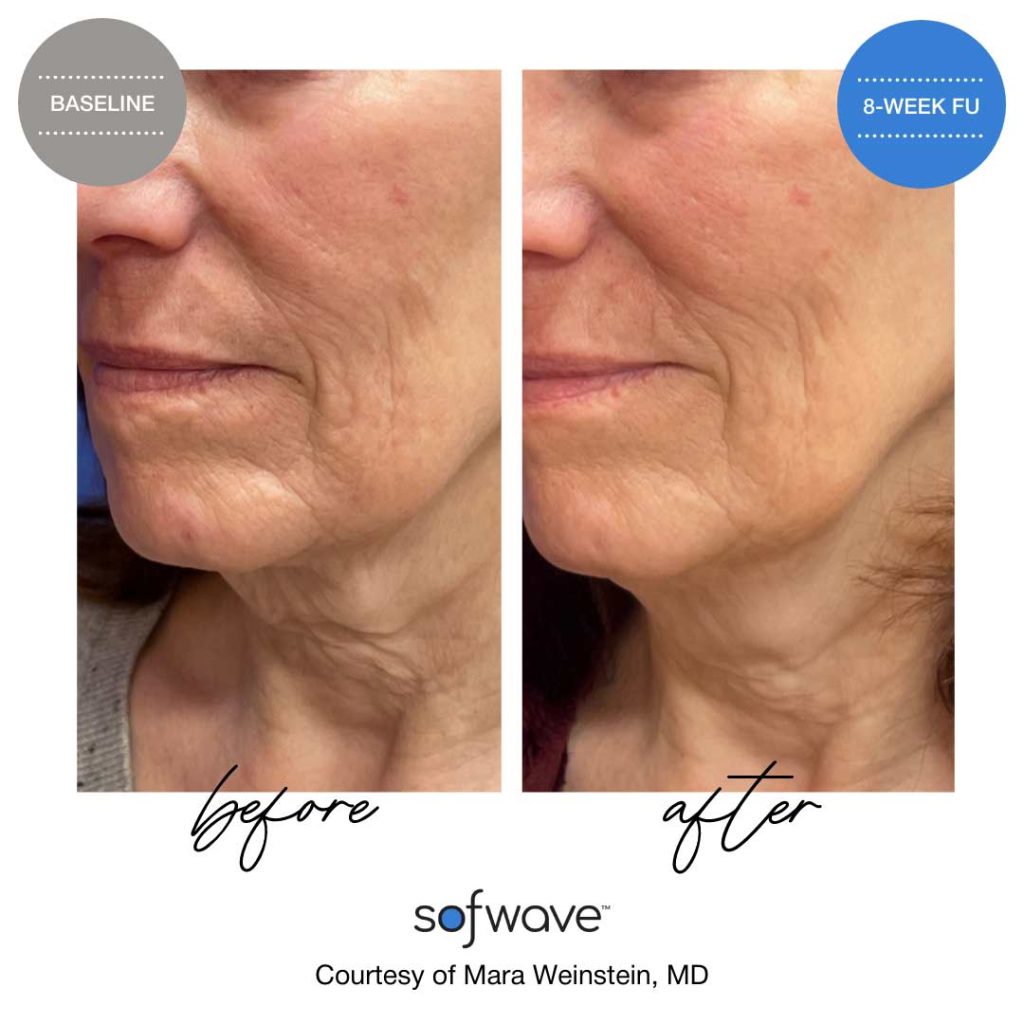 What are the Benefits of SofWave?
Sofwave is a treatment that can help to reveal smoother, refreshed skin in just a single session. This non-invasive treatment improves wrinkles' appearance and lifts sagging skin, leaving the skin of the face and neck looking and feeling more youthful.
Just take a look at the benefits for yourself!
Sofwave is a non-invasive treatment that does not require incisions or injections, making it a less risky and more comfortable option for many people.
A Sofwave treatment session typically takes between 30-45 minutes, making it a convenient option for busy people.
Most people can return to their normal activities immediately after a Sofwave treatment, with minimal downtime required.
Sofwave is safe and effective for people of all skin types, including those with darker skin tones.
The effects of a Sofwave treatment may last for several months to a year, making it a more long-lasting option compared to some other treatments.
Sofwave offers a non-surgical way for patients to address their skin concerns and get on with their life!
Candidates for Sofwave
Sofwave is generally suitable for people in their 30s and older who have mild to moderate signs of skin aging, such as fine lines and wrinkles. The best candidate for any 17 MedSpa treatments will depend on a variety of factors, including:
Your skin type
Medical history
Specific concerns, or goals
We recommended that you consult with our qualified professional to determine if Sofwave is right for you. We can help determine if Sofwave or another of our treatments will best address your skin concerns.
Personal Consultation
During a consultation for a Sofwave treatment, you can expect to have a thorough evaluation of your skin, including a discussion of your medical history and any skin concerns you would like us to address. If you have a visual goal you would like to share with us, such as your favorite star's glowing skin, bring it in!
We will ask you questions about your skincare routine and any previous treatments you have had before examining your skin and taking photos to document your skin's condition. Based on the consultation, we will be able to determine if Sofwave is a suitable treatment option for you and provide you with more information about what to expect during and after the treatment.
If Sofwave is not suitable for you at this time, we will provide you with recommendations for other treatments or skincare products that may be beneficial for you. It is important to ask any questions you may have during the consultation to ensure that you have a clear understanding of the treatment process and what to expect.
Schedule your consultation today by calling (408) 663-8701 or filling out this form. We look forward to giving your skin its firmness back!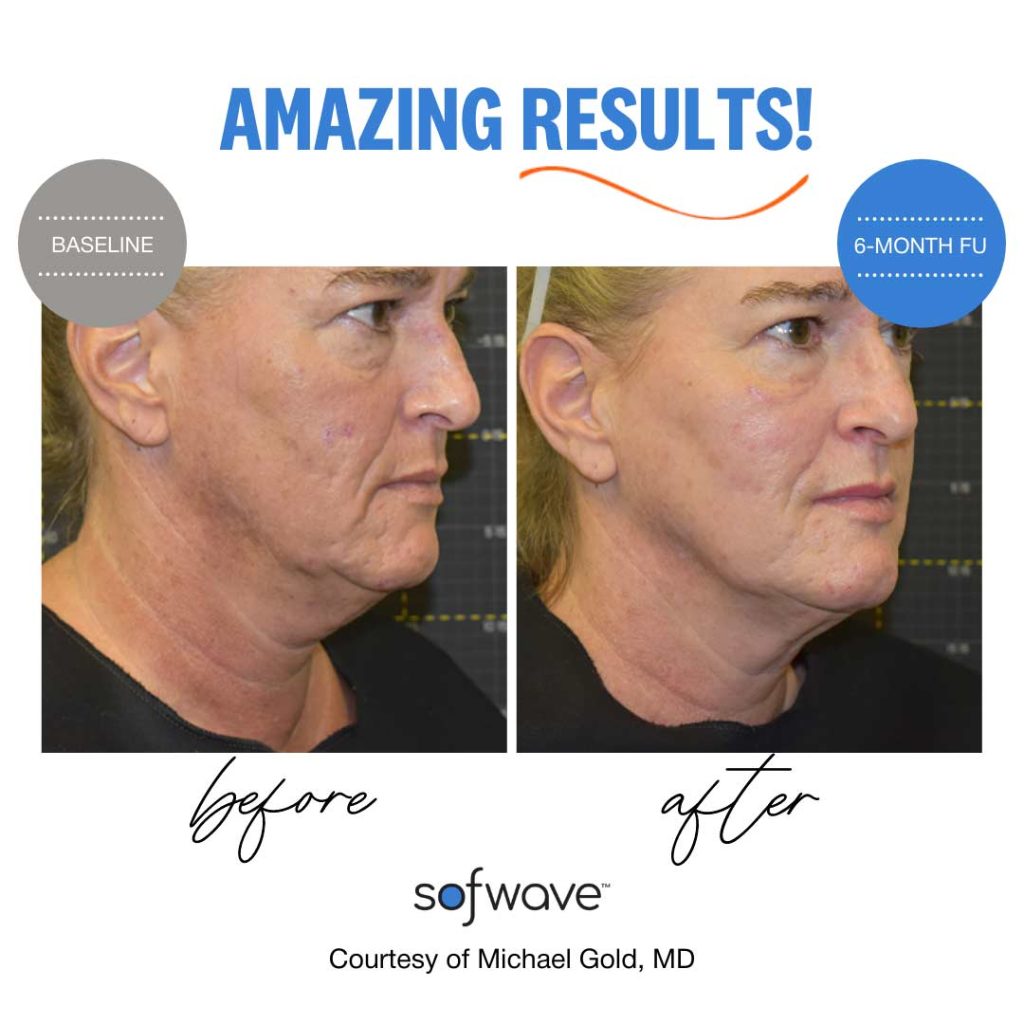 Preparation
Preparing for Sofwave treatment may include:
Avoiding certain medications
Avoiding skin care products for a period of time
Avoiding sun exposure
Wearing sunscreen to protect your skin
You may also be advised to remove any makeup, lotions, or other products from your skin before the treatment. We recommend you avoid drinking alcohol or caffeine before the treatment, as they can dehydrate the skin and make it more sensitive. You may also want to bring a hat to protect your skin after the treatment.
It is important to follow our instructions carefully to ensure the best results from your Sofwave treatment. If you have any questions or concerns, don't hesitate to call us for clarification.
Procedure
The Sofwave device, administered by your skilled 17 MedSpa technician, delivers heat to the mid-dermal layer of the skin, which is the optimal depth for treating wrinkles (around 1.5mm). [3] The Sofwave technology is designed to heat the skin to the precise temperature needed to stimulate collagen production, reducing fine lines and wrinkles and lifting the eyebrows, as well as the neck and under the chin.
During the procedure, we will apply a gel to the treatment area and use the device to deliver the ultrasound energy to the skin. The treatment typically takes between 30-45 minutes, depending on the size of the treatment area. It is quick, straightforward, and effective – just what busy professionals are looking for in a cosmetic treatment!
Recovery
Most people experience minimal downtime after a Sofwave treatment. You may be advised to avoid certain activities, such as exercising or swimming, for a short period of time to allow your skin to heal. You will also need to avoid exposing your skin to extreme temperatures or UV radiation and to use sunscreen to protect your skin from sun damage – always a good idea!
You may experience some mild redness or swelling in the treatment area immediately after the procedure, but these side effects should resolve quickly. It is important to follow any aftercare instructions provided by our team to help minimize any potential side effects and ensure the best possible results from your treatment.
If you have any concerns or questions about the recovery process after a Sofwave treatment, don't hesitate to call us for guidance.
Results
After a Sofwave treatment, some people may notice an improvement in their skin as soon as one week afterward. However, the collagen regeneration process can take up to 12 weeks to fully complete so ongoing improvements may be seen for up to three months after the treatment. It is important to follow any aftercare instructions to help maximize the benefits of the treatment and maintain your beautiful, healthy, youthful skin.
According to available research, most subjects (72%) who received a Sofwave treatment reported an improvement in their skin, and most of those subjects were satisfied with the results. There were no reported adverse events related to the use of the device. [4] These findings suggest that Sofwave is a safe and effective treatment option for improving the appearance of wrinkles and sagging skin!
What is the Cost of Sofwave in Cupertino?
The cost of your treatment with 17 MedSpa will depend on how many treatments you have scheduled. We can give you a better idea of what you can expect to pay during your consultation. We look forward to giving you incredible skin. Call us today to schedule your consultation!
References