Lifting and Toning Care
Consultations offered at our two convenient locations in Buena Park and Cupertino, CA
Lasers for Lifting and Toning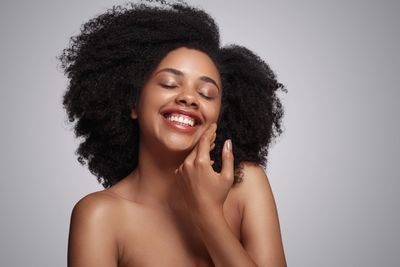 Lifting and toning with laser technology is an effective way to repair and revitalize fatigued, sun-damaged, sagging, and mature skin. PicoWay and excel V are two excellent non-invasive low-level laser (light) therapy (LLLT) choices for patients looking to help their skin naturally tighten and appear more youthful while also improving its tone and quality! These advanced aesthetic devices can target tired, lax skin that has lost its youthful luster. So, if you've been meaning to reinvigorate your complexion, try a laser skin treatment to firm your skin and support its health.
You care about your skin's health, so it's important to support its strength and appearance with treatments that can help it maintain its vitality. Sagging skin is a common problem and a difficult one to address with at-home treatments alone. Additionally, dullness and pigmentation issues can make us appear tired and run down.
Your skincare regimen may already include nourishing serums, replenishing moisturizers, and healing night creams, but oftentimes, it needs some extra help! That's why 17 Med Spa offers in-office laser procedures to help you tighten and tone tissue to reduce visible lines and wrinkles and bring new life to your skin. Talk to one of our skin experts and find out how a PicoWay or excel V laser treatment can help you get the tightened, healthy skin you want. Call our Buena Park office at (714) 224-9010 or our Cupertino location at (408) 663-8701 to book a personal skin consultation with one of our specialists. You can also submit your inquiry via this online form.
About Laser Skin Treatments
Lasers have been utilized in skin rejuvenation procedures since the early 1980s.(1) They are widely used in aesthetic medspa procedures to treat many different skin conditions. The wavelength of the focused light beams can be adjusted according to the treatment type. Multi-wavelength laser energy can be customized to a patient's needs. When applied to the treatment area, the wavelengths can penetrate the skin. The body responds to this by stimulating healing properties, including new collagen production. As collagen in the skin is exposed to the laser energy, the molecules contract, firming and tightening tissues.
Laser Treatment with PicoWay
PicoWay is an advanced LLLT laser treatment that uses lightning fast pulses to alter skin structure. This is how the treatment got its name. A picosecond is equal to just one trillionth of a second! The PicoWay laser system can be used to treat many different skin conditions. As well as skin tightening, it can significantly improve the following conditions.
Acne
Wrinkles
Uneven Pigmentation
Benign Lesions
Tattoo Removal
Depending on your circumstances, we may recommend a single session, or a series of PicoWay treatments to help you get the results you desire!
How Does PicoWay Work?
PicoWay is a safe, effective treatment for lifting and toning skin. This LLLT treatment uses ultra-short bursts of laser energy that cause a photoacoustic effect on the treatment area. Photoacoustics is the formation of sound waves when a surface absorbs light. Unlike some other laser treatments, it doesn't produce a large amount of heat (known as a photothermal effect). This minimizes damage to surrounding tissue which gently resolves skin laxity, making recovery comfortable and straightforward.
Benefits of PicoWay
Versatile, customizable treatment
Fast, non-invasive procedure
Reduces scarring and wrinkles
Minimizes hypopigmentation
Low risk of surrounding tissue damage
Low to no downtime
PicoWay procedures are clinically proven to produce positive results with low instances of adverse effects.(2)
Laser Treatment with excel V
Another fantastic lifting and toning treatment is excel V. Its laser-based skin revitalizing and resurfacing technology is the first to use two ultra-precise wavelengths that can effectively address common skin conditions, particularly hyperpigmented areas. It can also be used to treat:
Superficial Vascular Lesions
Deep Vascular Lesions
Pigmentation Issues
Ecchymosis (Bruising)
Inflammatory Acne
Acne Scars
About excel V Laser Skin Resurfacing
Excel V is a clinically effective non-invasive laser system that uses interchangeable handpieces for tailored skin resurfacing. It uses a unique green light laser that penetrates deep into the skin. Wavelength is measured in nanometers (nm), which equal a thousand-millionth of a meter. One nanometer is a miniscule 25,400,000ths of an inch! The laser delivers energy at either 532-nm or 1064-nm wavelengths. Research demonstrates that skin toning and texture improves at these wavelengths, and there's an increased reduction of redness and abnormal pigmentation.(3)
Benefits of excel V
Non-invasive for fast recovery
No long-term side-effects
Diffuses redness safely
Improves signs of skin aging
Gentler approach to pigmentation issues
As well as all of these benefits, excel V can tighten skin. Laser application during the procedure causes a thermal injury which causes collagen shrinkage and skin remodeling.(4)
Personal Consultation
A personal consultation at a 17 Med Spa location in Buena Park or Cupertino can help you find the right laser treatment for your skin. We will ask you to fill out some brief health forms, then perform a detailed skin evaluation. If you're looking for a solution to skin laxity, we'll pay particular attention to the areas you wish to address, and recommend PicoWay, excel V, or another of our premium skin services for your needs.
Corresponding & Complementary Procedures
We offer our patients a wide range of lifting and toning treatments. As well as laser procedures like PicoWay and Excel V, you may be interested in finding out more about some of our non-laser skin tightening alternatives.
InMode Forma – RF Skin Tightening
Radiofrequency (RF) skin tightening is another way to help your skin look its best. It's a skin remodeling and anti-aging procedure that may be a good alternative to laser therapy. Forma by InMode is a non-invasive way for patients to smooth wrinkles and lines and achieve skin revitalization from the inside out. It can help to tighten and soften skin in the face, neck, and body. Cosmetic RF treatments are proven to provide noticeable clinical results, improvements in facial skin quality, and high patient satisfaction rates.(5)
MiniFX and BodyFX Body Contouring
contouring techniques that effectively melt away stubborn fat using RF technology. BodyFX addresses larger areas of the body, while MiniFX is suitable for smaller, more specific areas such as the area of the neck directly under the chin. Patients can achieve extensive skin toning and body reshaping.
Cost of Laser Lifting and Toning Treatments in Buena Park
Our PicoWay and excel V laser treatments can be performed on a standalone basis, or as part of a series to achieve your beauty goals. Each procedure is tailored to your individual needs, so costs will vary according to the number of areas you wish to treat and how long your procedure takes. To find out more about laser lifting and toning, and to make an inquiry about booking a personal consultation, please reach out to us online, or call the 17 Med Spa location closest to you.
Buena Park location: (714) 224-9010
Cupertino location: (408) 663-8701
Join 17 Med Spa on Facebook, Instagram, and Twitter for the latest beauty news, specials, and procedure videos!
What are some non-invasive laser treatments for skin tightening?
Effective cosmetic skin tightening treatments include minimally-invasive laser treatments, ablative laser treatments, microneedling, radiofrequency treatments, and chemical peels. Speak to your provider about the best option for your needs.
What does an excel V procedure treat?
An excel V laser treatment can address many skin conditions, including; rosacea, spider veins, pigmented skin lesions, skin laxity, wrinkles, port wine stains, poikiloderma (sun aging), and sun spots.
How many laser treatments are effective for sagging facial skin?
The number of laser treatments your provider will recommend will depend on the severity of the problem, the location of your skin issue, and how long the procedure will take. Set up a consultation with a professional to evaluate your skin condition, and get an estimate of the number of sessions you will need.
References