Mesotherapy/Micro Injections
Consultations offered at our two convenient locations in Buena Park and Cupertino, CA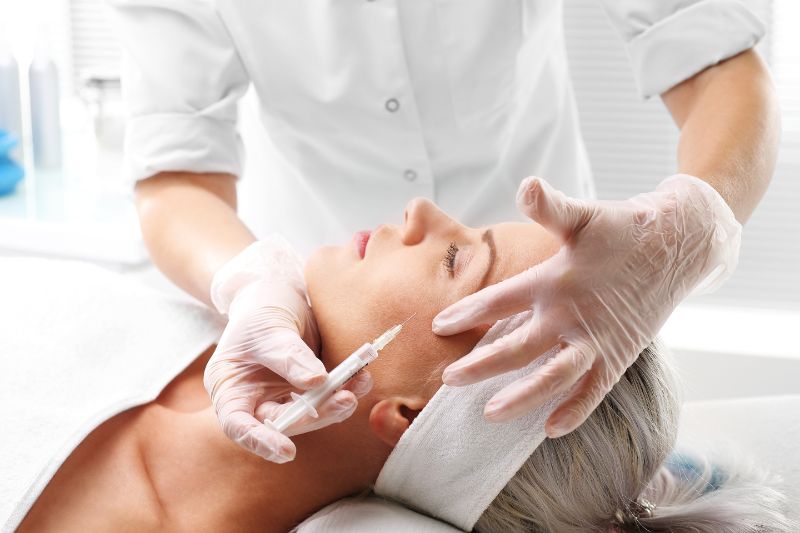 Mesotherapy is a non-surgical microinjection technique that delivers customized blends of rejuvenating serums deep into the skin. Also known as aqua injections, these treatments contain a patient-specific, tailored mixture of skin-strengthening vitamins, as well as components that are already naturally present in skin like hyaluronic acid (HA). Particularly popular in Korea and Japan, mesotherapy can tighten the skin, shrink large pores, eliminate dark spots and reduce the appearance of wrinkles. Patients are left with softer, glowing skin after their very first treatment.
The mesotherapy device works in a similar way to a microneedling machine. However, the needles also inject nutrients into the lower layers of the skin, which promotes a healing response. This results in increased circulation and new collagen production in the treated area. Our tailored aqua injection treatments are well-suited to patients looking to address signs of aging, minimize acne scars, and brighten dull skin texture. Every treatment concludes with a soothing, protecting jelly mask, so you can walk away feeling rejuvenated, soothed, and refreshed!
The skin professionals at 17 Med Spa offer patients in Cupertino, Buena Park and the surrounding Santa Clara locale personalized mesotherapy treatments that cater to a wide range of skin concerns. Contact us for more details about our aqua injection procedures to find the right treatment for you!
Buena Park: (714) 224-9010
Cupertino: (408) 663-8701
About Mesotherapy
Our skin undergoes many age-related changes. It can become thinner, looser, dryer, and paler. Wrinkles become more noticeable. Skin becomes weaker due to the reduced capacity of fibroblasts to produce collagen. Intradermal mesotherapy, sometimes known as "biorejuvenation" or "biorevitalization", uses extra fine needles to improve signs of skin aging by boosting collagen and elastin production. These needles can be introduced to the skin at varied depths to supply a number of key nutrients, which can include:
Vitamins
Enzymes
Hormones
Hyaluronic acid
Natural Plant Extracts (1)
Mesotherapy has more recently been used cosmetically for skin rejuvenation, but it was originally utilized in the treatment of lymphatic and vascular disorders. In some areas, it's even a popular choice for patients to get rid of unwanted fat. Using a special handpiece, patients receive micro-dosed aqua injections of bioactive serums. These serums increase skin hydration and create an optimal environment for fibroblasts. (1)(2)
What are Fibroblasts?
Fibroblasts are special cells that contribute to the formation of connective tissue and make up part of the extracellular matrix: the skin's support framework. They play an important role in all stages of wound healing and tissue remodeling, so they are key components in aesthetics and skin rejuvenation. Dermal fibroblast dysfunction and their activity, or lack of, within the extracellular matrix is strongly linked to skin aging.(3) Patients can benefit from numerous treatment types that have a positive effect on how fibroblasts function in the body.
Mesotherapy Choices
At 17 Med Spa, we can create a bespoke aqua injection mesotherapy plan for your needs. Our specialized procedures can contain any of the following, based on your unique beauty goals!
Exosome Mesotherapy
Exosomes are intracellular communicators. They are powerful vesicles, or cellular components, that carry proteins and genetic information. Originally a treatment for patients with serious burns, exosome therapy aids the rejuvenation and restoration of skin health. The cosmetic benefits of exosomes include their:
High Stability
Biocompatibility
Ability to Stimulate Cells
Ability to Enhance Collagen Synthesis.(5)
Research suggests that through penetrative methods, exosomes may signal a cascade of growth factors that directly affects fibroblasts.(6)
Filorga Mesotherapy
Filorga serums contain skin firming peptides with encapsulated HA. Peptides are chains of amino acids that act as messengers between tissues. One of their functions, and the main reason why they are used in cosmetic products, is their ability to promote collagen production in skin.
Korean Beauty Secrets: Skin Botox
The "Glass Skin" Effect
As well as mesotherapy, 17 Med Spa offers Skin Botox – an in vogue injection procedure that's taken the South Korean beauty industry by storm in recent years. Botox is usually used to correct dynamic wrinkles and smooth deep lines by acting as a disruptor between facial muscle receptors and the brain. However, Skin Botox is different!
Patients can achieve a lustrous, "glass skin" effect by undergoing targeted Botox at shallow depths under the skin, rather than into the muscle. With Skin Botox, patients can achieve:
A Glowing Complexion
Tighter Pores
Brighter Skin
Smoother Skin Texture
Results from Skin Botox can last up to six months!
Speak to us about a Skin Botox treatment, the newest skin rejuvenation technique at 17 Med Spa.
Personal Consultation
At your personal skin consultation we'll find out which mesotherapy treatment option is best for you! You can fill in some intake forms, tell us about your skin concerns. We'll examine problem areas and shortlist your procedure options. After we've outlined the benefits of each treatment, determine your individualized plan and schedule your procedure
How to Prepare
Stop taking NSAID medications (e.g. aspirin and ibuprofen).
Take preventive antiviral medication if you are prone to cold sores.
Stop your use of topical acids (e.g. glycolic acid, retinol, AHAs).
Avoid tanning beds, self tanning products, and prolonged exposure to UV light.
Wait at least two weeks after any Botox treatment.
Wait 6 months after stopping accutane acne treatment.
Aqua Injection Procedure
Aqua injection is performed using one of our two state-of-the-art mesotherapy machines; Dermashine or Aqua Injector. To minimize discomfort, we administer topical numbing cream to the area of treatment. After the cream takes effect, our nurse administers the injections with a specialized device. This device has a multi-needle head which, when applied to the skin, penetrates into the deeper levels. We will administer your chosen treatment type outlined in your personal treatment plan. The procedure concludes with a jelly mask to soothe any skin irritation that may have occurred at the injection sites.
Recovery & Results
Most patients recover from aqua injection therapy in 3-5 days! You should expect to see some mild swelling, bruising and redness. In some patients, pinpoint bleeding at the injection site may occur. These symptoms will resolve just a few days after your treatment..
We ask that patients follow these directions to get the most effective results:
Avoid high humidity environments (such as the gym) for 72 hours.
Steer clear of massages, hot tubs, saunas and steam rooms for 48 hours.
Stay out of direct sunlight for 48 hours.
Don't do any strenuous exercise or swim for 24 hours.
Use mild cleansers and avoid harsh exfoliators and strongly perfumed products
Continue to avoid using topical acids and stay out of the sun as much as possible.
Patients should avoid touching or irritating their face in the hours and days that follow. You may apply mineral makeup 48 hours after your aqua injection treatment. Patient responses to this procedure can vary, so check with our skin experts for personalized recovery instructions.
Cost of Mesotherapy/Micro Injections in Buena Park, CA
The cost of aqua injections varies. Your mesotherapy treatment plan will be formulated to include customized rejuvenation serums. Book an appointment with 17 Med Spa today to discuss your needs, and we'll explain the benefits of this innovative, trendsetting beauty treatment!
17 Med Spa Buena Park: (714) 224-9010
17 Med Spa Cupertino: (408) 663-8701
Follow the 17 Med Spa Instagram for news, specials, and more, and find the next luxurious beauty treatment for your face and body!
References