TruSculpt ID
Consultations offered at our two convenient locations in Buena Park and Cupertino, CA
TruSculptID is a personalized body sculpting solution that is non-invasive and gives proven results in as little as fifteen minutes. TruSculptID uses monopolar RF technology for an optimal experience with minimal discomfort. The truSculptID machine eradicates fat cells in the subcutaneous layer, providing patients with enduring slimness and up to 24% reduction in fat in the abdomen and 22% in the flanks. [1] This cutting-edge technology is designed to deliver smooth, even results without the need for anesthesia or downtime.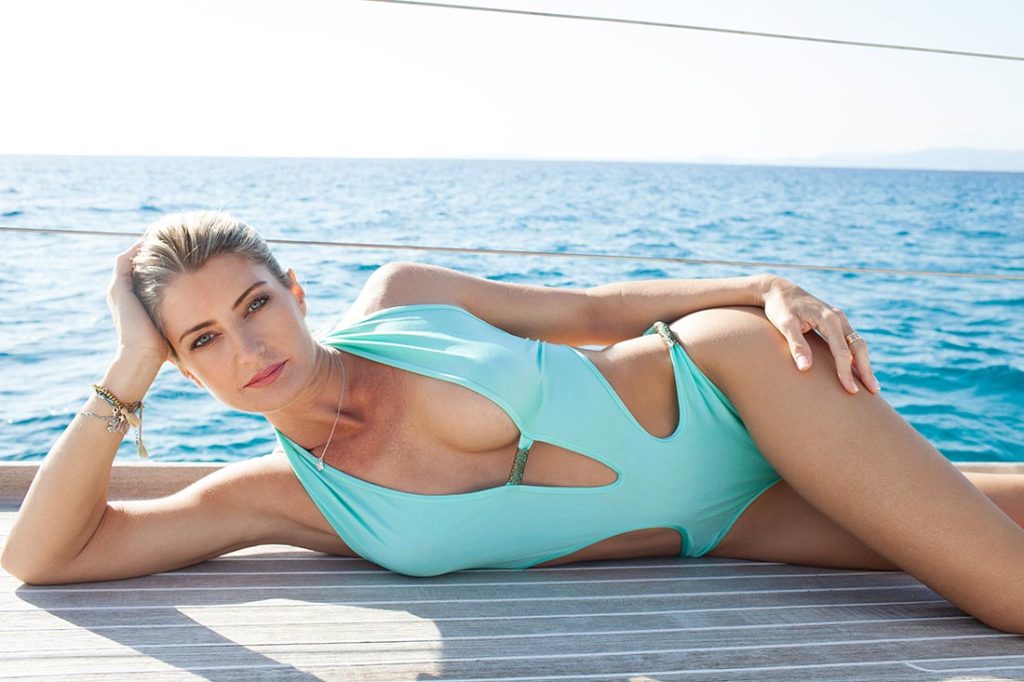 If you want to try this revolutionary fat-melting device, 17 Med Spa has you covered. 17 Med Spa is the only medical spa in Cupertino, CA, that offers TruSculpt ID treatments. Our certified professionals specialize in providing customized body contouring treatments to help you achieve the look you desire. So, if you're looking for a non-invasive option to slim down your body, give 17 Med Spa a call today. Call (408) 663-8701 to make your personal consultation appointment in Cupertino. Patients are also welcome to fill out our online form to get in touch.
Before & After Photos
View More Photos
How Does TruSculptID Work?
TruSculptID helps to transform your body with proven fat reduction and improved skin texture. It eliminates stubborn fat in many areas, such as
Abdomen
Flanks
Back
Arms
Legs
Calves
And more!
Radiofrequency energy is delivered to the treatment area, gently heating fat cells and inducing apoptosis; this causes fat cells to break down and be removed from the body via natural metabolic processes. [2] The procedure requires no downtime, helping you quickly return to your daily routine!
Plus, truSculptID treatments are customizable to fit each individual's needs. Whether you're looking for spot reduction or full-body sculpting, you can rest assured that truSculptID will provide you with excellent results.
More About RF Technology for Fat Reduction
Radiofrequency (RF) technology is a non-invasive, clinically proven body contouring procedure that applies electromagnetic energy to subcutaneous fat. Radiofrequency doesn't affect other tissues because it's selectively absorbed by fat cells. Fat cells have different properties than other tissue, making them the perfect target for RF technology.
What are the Benefits of TruSculptID?
TruSculptID benefits patients by providing:
Non-invasive fat reduction
Minimal to no downtime
Improved skin texture and contours
Significant fat reduction in as little as 15 minutes
Long-lasting results
Safe and effective treatment
Furthermore, patients can look forward to the following benefits after using TruSculptID:
Treatment for Cellulite
Cellulite is a cosmetic condition where the skin appears to have dimples or lumps. It's caused by fat deposits under the skin and usually affects women. Cellulite is considered a "disease of the subcutaneous fat layer," so because truSculptID targets subcutaneous fat cells, it can be used to treat cellulite. [3]
Improved Muscle Definition
For patients with good muscular definition covered by a layer of fat, truSculptID can help create a more toned appearance. The RF energy will target the subcutaneous fat, resulting in a more sculpted physique.
Skin Tightening
RF can be used to cause dermal heating, which can help improve the appearance of mild to moderate skin laxity. Wound healing mechanisms help promote the remodeling of collagen and wound contraction, which can ultimately help improve the appearance of skin laxity.
Who is the Ideal Candidate for TruSculptID?
The ideal candidate for TruSculptID is someone who
Wants to reduce or eliminate stubborn fat deposits that haven't responded to diet and exercise
Is in good health
Has realistic expectations about the outcome of their treatment
People with a target weight loss goal of 20-30 pounds
TruSculptID can be used on all skin types and tones, and it can be used on most areas of the body with stubborn fat deposits.
If you're pregnant, have tumors around the procedure area, or have other medical histories that might not be compatible with TruSculpt ID, please let us know before proceeding with this treatment. If this is the case, we would be happy to recommend a different method that can also bring great results. After a consultation with one of our certified professionals, they'll be able to determine if truSculptID is the best option for you.
Personal Consultation
Take time during your consultation to better understand the truSculptID procedure. Our qualified professional will explain the process and what you can expect during and after your treatment. We'll also discuss any potential side effects and answer any questions you may have. More importantly, we'll discuss your goals and develop a customized treatment plan to meet your needs best.
At the end of your consultation, you'll better understand how truSculptID works and what results to expect. You'll be able to make an informed decision about whether or not truSculptID is the right choice for you. With our help, you can achieve your desired body and maintain it with proper diet and exercise.
If you're interested in learning more about truSculptID, contact our office to schedule a consultation with one of our certified professionals. We'll be able to discuss your concerns and goals and determine if truSculptID is the best option for you. We look forward to helping you achieve your desired body contours!
Preparing for Your Treatment
Before you begin your treatment, there are a few things to consider. Your qualified professional will discuss these in detail with you during your consultation, but to give you an idea of what to expect:
Avoid any major sun exposure before treatment
Avoid tanning salons
Refrain from taking any anti-inflammatory medications within 48 hours of treatment
Do not wear any lotion or topical cream on the treatment area
Avoid exercise or strenuous activity for 24 hours after your treatment
Following these instructions will help ensure the best possible results from your truSculptID treatment.
The TruSculpt Procedure
The truSculpt procedure is usually comfortable, feeling like an intense warmth. Your skin's temperature will rise during the treatment, but you shouldn't feel discomfort. Before your session begins, a gel pad will be applied to the treatment area. This pad helps conduct the RF energy and protect your skin from potential damage.
Your certified professional will move the handpiece over the treatment area in a slow, continuous pattern. The entire session usually takes about 15 minutes, depending on the size of the treatment area. You may need multiple treatments to achieve your desired results.
Recovery After TruSculptID
You should be able to resume your normal activities right after treatment. You may experience some redness, swelling, or warmth in the treatment area, but this should fade within a few hours. You may also have sensitive skin for a few days post-procedure, but you'll be able to go about your normal activities without trouble.
We recommend the patients refrain from drinking alcohol after the procedure since alcohol can increase the risk of side effects.
What are the Results of TruSculptID?
In as little as one 15-minute session, you can see results on your abdomen and flanks. You will start to see results after just one treatment, with the best results appearing after 12 weeks.
Slimmer, sleeker, and more appealing contours with a single session! Sound too good to be true? With truSculptID, it's not. Contact our office today to schedule a consultation and find out if you're a good candidate for truSculptID. We look forward to helping you reach your body contouring goals!
What is the Cost of TruSculptID in Cupertino?
The cost of TruSculptID in Cupertino will depend on the number of areas you are having treated, as well as any additional procedures you may choose to pair with your truSculptID treatment. During your consultation, our qualified professionals will discuss all costs associated with your customized treatment plan so you can make an informed decision.
To schedule your TruSculptID consultation, contact us today. Call (408) 663-8701 in Cupertino. Patients are also welcome to fill out our online form to get in touch. We look forward to helping you get your ideal figure!
FAQ
Does truSculptID hurt?
With no pain, scars, tissue damage, or downtime like traditional liposuction methods have, TruSculpt ID is a safe and FDA-approved device to remove fat deposits. The treatment process can resemble receiving a heated or hot stone massage.
Are the results permanent?
Yes, the fat reduction from TruSculpt ID is permanent. The machine uses radio frequency to reduce the fat in your desired area safely. So unless you gain significant weight, it is unlikely that old fat cells will return.
How long is the procedure?
A single session is about 15 minutes There's minimal to no downtime. Because of such a short treatment time, TruSculpt ID is one of the market's most innovative and effective body contouring devices.
What if I have more than 50 lbs to lose?
We suggest losing weight before treatment if you want to lose between 50-100 pounds or more. TruSculptID is best for patients within 20-30 pounds of their goal weight.
References
Somenek MT, Ronan SJ, Pittman TA. A Multi‐Site, Single‐Blinded, Prospective Pilot Clinical Trial for Non‐Invasive Fat Reduction of the Abdomen and Flanks Using a Monopolar 2 MHz Radiofrequency Device. Lasers in Surgery and Medicine. 2020;53(3):337-343. doi:10.1002/lsm.23295
Li DY, Song JD, Liang ZY, et al. Apoptotic Effect of 1800 MHz Electromagnetic Radiation on NIH/3T3 Cells. International Journal of Environmental Research and Public Health. 2020;17(3):819. doi:10.3390/ijerph17030819
Trelles MA, Mordon SR. Adipocyte Membrane Lysis Observed After Cellulite Treatment Is Performed with Radiofrequency. Aesthetic Plastic Surgery. 2008;33(1):125-128. doi:10.1007/s00266-008-9273-0