Spectrum IPL
Consultations offered at our two convenient locations in Buena Park and Cupertino, CA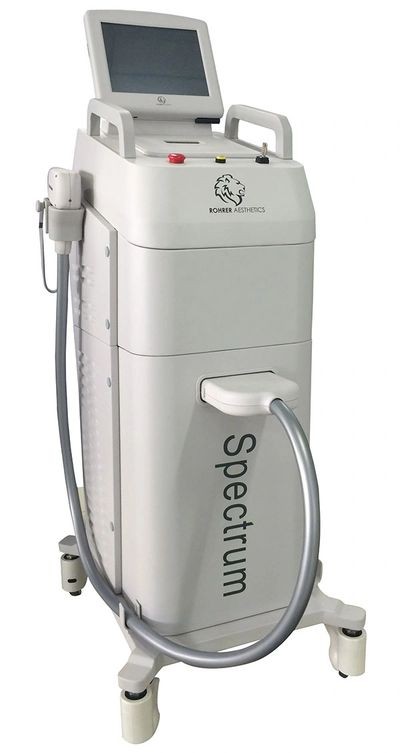 Spectrum IPL is a revolutionary method of treating a variety of skin concerns, including sun damage, and wrinkles. With each session tailored to your individual needs, you can expect smoother, softer, and more even-toned skin after just a few visits. Spectrum IPL delivers the results of multiple treatments in one session and provides long-term improvements for various aesthetic concerns.
At 17 MedSpa in Buena Park and Cupertino, CA, we offer Spectrum IPL and our patients are delighted with the results. Our experienced professionals use advanced technology to deliver safe and effective treatments that can be tailored to your skin type and requirements, resulting in remarkable improvements to your appearance. We have seen amazing results for patients who had previously been unable to find success with other methods of hair removal or sun damage correction. If you're ready to make a change, consider Spectrum IPL at 17 MedSpa. Call for a consultation at (714) 224-9010 or (714) 332-7009 in Buena Park; or (408) 663-8701 in Cupertino. Patients can also fill out our contact form to receive a returned call from our scheduling coordinator.
About Spectrum IPL
Our Spectrum IPL treatment is designed to be comfortable and efficient, making it perfect for busy schedules. We use an advanced cooling system to ensure optimal results with minimal discomfort and downtime. Additionally, the system can be adjusted to reach deeper layers of the skin for more intense treatments. By using this advanced technology, 17 MedSpa can provide customized treatments to ensure the best possible results.
What is IPL?
IPL stands for Intense Pulsed Light, which is a type of light therapy used to target and treat various skin concerns. It works by using gentle pulses of light that penetrate the skin, targeting specific pigments or areas of concern. IPL technology is able to differentiate between different pigments in the skin by detecting the specific wavelengths of light that are absorbed; this allows it to target specific areas of concern, such as brown spots or hair follicles, without affecting the surrounding tissue. [1]
IPL treatments use short, broad-spectrum pulses of light which include a variety of wavelengths that are absorbed by the skin in different ways; this means that no single wavelength will be absorbed heavily enough to damage the surrounding skin. Furthermore, many IPL systems have built-in filters that eliminate any hazardous wavelengths so that the treatment is safe.
What Can IPL Treat?
Spectrum IPL has many incredible uses that can treat a variety of concerns:
Remove Unwanted Hair – The larger spot size is great for laser hair removal on any area with a hertz rate that can go up to 10 pulses per second. Not only that but there is also built-in contact cooling!
Vascular Lesion Removal – The Long-Pulsed Yag laser is used to reduce vascular lesions, more commonly known as spider veins. By using heat energy, it damages and collapses targeted blood vessels. Additionally, technicians can utilize the Long-Pulsed Yag to remove different types of vascular lesions including cherry angioma.
Non-Abrasive Cosmetic Procedures – The intense pulsed light (IPL) has four filters that technicians can utilize for various non-abrasive procedures, including reducing acne, removing vascular and pigmented lesions, and reducing unwanted hair growth.
Skin Resurfacing – If you are interested in a procedure that will help with surface pigmentation, fine lines, and wrinkles, then Erbium may be the treatment for you. Minimal downtime is required so that you can return to your usual activities quickly.
Tattoo Removal – The Q-Switched Yag/KTP laser is a tattoo removal device that uses dual wavelengths (1064nm/532nm) to remove many different colors of tattoo pigments.
All that in one machine! We are committed to helping our patients achieve their aesthetic goals and look their very best. If any of the other methods of treatment would better benefit you, let our staff know you'd like to discuss it further during the consultation. Our team at 17 MedSpa strives to deliver outstanding service for all your skin needs!
What are the Benefits of IPL Treatments?
Patients who visit 17 MedSpa for their Spectrum IPL treatment can expect the following results:
Hair removal – you can finally get rid of unwanted hair quickly and painlessly with Spectrum IPL. Each session reduces the number of hairs remaining in the treated area, leading to longer-lasting smooth skin. No more razors for Christmas!
Sun damage reduction – sun damage is a common cause of wrinkles, age spots, and discoloration. Spectrum IPL can reduce the appearance of sun damage and help your skin look younger and healthier.
Acne treatment – Spectrum IPL can be used to treat acne-prone skin, controlling inflammation and reducing acne scarring for a smoother complexion.
Wrinkles reduction – Spectrum IPL treatments stimulate collagen production in the dermis, resulting in fewer wrinkles and firmer, smoother skin.
Tone and texture improvement – Spectrum IPL gently exfoliates the skin, stimulating new cell growth for improved tone and texture.
So if you're looking for a safe, effective way to rejuvenate your face or body, consider Spectrum IPL at 17 MedSpa. We will get you in and out and on your way.
Candidates For Treatment
Unfortunately, at this time, IPL is not an appropriate treatment for dark skin tones. [2] The system targets darkly pigmented tissue, but we would be happy to suggest a variety of different methods to help darkly melanated patients achieve beautiful, glowing skin.
Other patients who have the above-mentioned skin concerns are good candidates for Spectrum IPL treatments at 17 MedSpa. All patients should be in good health and have realistic expectations for their results. During your consultation, we will discuss any pre- and post-treatment instructions to ensure optimal outcomes with minimal side effects.
We invite you to contact us today to learn more about Spectrum IPL treatment. Our experienced staff is here to answer any questions and provide the best possible service. We look forward to helping you look your best.
Personal Consultation
At 17 MedSpa, we understand that everyone's skin is unique and has different needs. Therefore, we offer private consultations with our knowledgeable staff to discuss your individual concerns and answer any questions you may have about Spectrum IPL treatments. During the consultation, your provider will also assess your skin type to determine if Spectrum IPL is the right choice for you.
Before undergoing treatment, your provider may recommend additional treatments or products to enhance the results and ensure you get the best outcome possible. They will also advise you on how to take care of your skin after each session to ensure long-lasting results.
If Spectrum IPL is the right treatment for your needs we can start scheduling your treatment sessions so that you can get started on your journey to smoother and healthier skin!
Preparation & Treatment
To prepare for your IPL treatment session, it is important to avoid sun exposure, tanning beds, and retinoid products for at least one week prior. [3] You should also limit vigorous physical activity the day before and after your treatment session. Additionally, you should use sun protection every time you go out in the sun to maintain optimal results.
Before each session, your provider will cleanse the treatment area, as well as apply a topical anesthetic to make you more comfortable during your procedure. Depending on the size of the treated area, each session typically takes between 15 and 45 minutes.
After Care
After your Spectrum IPL treatment session, you may experience some redness, swelling, and tenderness in the treatment area, which is normal and should resolve on its own within two to three days. Your provider may also recommend cold compresses or anti-inflammatory creams to reduce any discomfort you might experience.
It is important to follow all post-treatment instructions given by your provider in order to ensure optimal results. These may include avoiding direct sunlight, using a moisturizer, and using SPF 30 or higher sunscreen every time you go out in the sun.
Results & Maintenance
Most patients see significant improvements in their skin tone and texture after three to six treatments. However, some may require additional sessions for optimal results. For lasting results, your provider may recommend follow-up treatments every three to four months.
We invite you to contact us today to learn more about Spectrum IPL treatments at 17 MedSpa! Our experienced staff is here to answer any questions and provide the best possible service. We look forward to helping you uncover your gorgeous, youthful skin.
Corresponding & Complementary Procedures
When a patient wants to look and feel their best, we know there are a variety of treatments available to help meet their goals. At 17 MedSpa, we offer many of these corresponding and complementary procedures to enhance your Spectrum IPL results. These include:
Microneedling
Microdermabrasion
Chemical peels
Dermal fillers
Botox and Dysport injections
Each of these treatments works to improve the overall condition of your skin and will complement your Spectrum IPL results. Your provider can help you determine which combination of procedures is best for your individual needs. Come experience the highest standards of care, quality, and safety at 17 MedSpa!
What is the Cost of IPL Treatments in Cupertino?
The cost of your session will be determined during your initial consultation. We understand that choosing a treatment can be overwhelming, so we are here to help answer any questions you may have and provide the best care possible. Contact us today to schedule your consultation and get started on your journey to smoother and healthier skin! We look forward to working with you.
Call for a consultation at (714) 224-9010 or (714) 332-7009 in Buena Park; or (408) 663-8701 in Cupertino. Patients can also fill out our contact form to receive a returned call from our scheduling coordinator.
References
Bitter PH. Noninvasive Rejuvenation of Photodamaged Skin Using Serial, Full-Face Intense Pulsed Light Treatments. Dermatologic Surgery. 2000;26(9):835-843. doi:10.1046/j.1524-4725.2000.00085.x
Goldberg DJ. Current Trends in Intense Pulsed Light. The Journal of Clinical and Aesthetic Dermatology. 2012;5(6):45-53. https://www.ncbi.nlm.nih.gov/pmc/articles/PMC3390232/
Katz BE, Lewis J, McHugh L, Pellegrino A, Popescu L. The Tolerability and Efficacy of a Three-product Anti-aging Treatment Regimen in Subjects with Moderate-to-severe Photodamage. The Journal of Clinical and Aesthetic Dermatology. 2015;8(10):21-26. Accessed November 18, 2022. https://www.ncbi.nlm.nih.gov/pmc/articles/PMC4633208/