Laser Hair Removal
Consultations offered at our two convenient locations in Buena Park and Cupertino, CA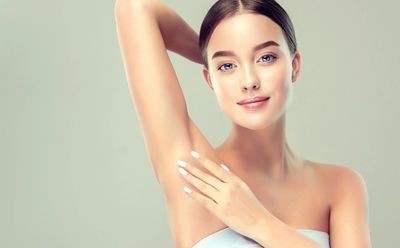 Laser hair removal is a simple, effective cosmetic treatment that reduces unwanted hair in targeted areas of the body to reveal smoother, more aesthetically pleasing results. Many of our patients agree that it's far less hassle than shaving and much more comfortable than waxing! At 17 Med Spa, we have two state-of-the-art laser hair removal systems; the Spectrum by Rohrer, and the Soprano from Alma, to give you the silky, hair- and hassle-free skin you deserve. 
Nowadays, there are many different ways for us to deal with excess body hair, each with its own pros and cons. These include specially-designed razors, depilatory creams, electrolysis, and plucking techniques. But, despite all these choices, laser systems are the best option for long-term hair reduction. (1) It's a personal decision as to how and where we remove hair from, but all women and men looking for a hair removal treatment should be aware of their options!
Call our Buena Park office at (714) 224-9010 or our Cupertino location at (408) 663-8701 to speak to our skin experts about laser hair removal treatments that could benefit you! You can also contact us online for further information about our med spa services.
About Laser Hair Removal
Many people don't realize that the word "laser" is an acronym. It stands for Light Amplification by the Stimulated Emission of Radiation. Lasers' ability to remove hair was first discovered (accidentally) in the 1960s, and gained popularity as an aesthetic procedure in the late 80s and early 90s. But hair removal is just one of many beneficial ways laser energy can help us reach our aesthetic goals. In fact, light-based technologies in dermatology have come a long way in a short time, and are used to successfully treat several skin ailments, including lesions, pigmentation issues, acne scarring, and uneven skin texture. (2)
There's nothing more frustrating than constantly itchy razor burned areas. And what's more, some waxing techniques – whether performed at home or a beauty salon – can leave our eyes watering and our faces contorted in discomfort. As beauty aficionados who care about our outward appearance, we may find we're always looking for ways to get long-lasting results from cosmetic treatments. We may seek out a range of beauty procedures to help us attain our aesthetic goals, and we should be including hair removal on that list if it isn't there already!
Laser hair removal is a relatively quick procedure that allows patients to forgo long-term discomfort. It's also performed by a professionally trained specialist in a med spa setting, so you can sit back, relax, and let us do all the work. Once your hair removal session is complete, you're free to get on with your busy schedule. It is so versatile that it can be used all over the body to great effect!
Many people are already aware of the benefits of hair removal for under the arms and on the legs, but there are so many other places that are suitable for this type of treatment.
Areas suitable for laser hair removal:
Pubic Area (Brazilian, Bikini)
Underarm
Upper Lip
Back
Chest
Happy Trail (Abdominal Hair)
Back of Neck
Fingers
Toes
Legs
Hirsutism in Women
Some people choose laser hair removal to address symptoms of hormonal imbalance, such as hirsutism. Hirsutism affects facial and body areas dependent on androgens, or male sex hormones. Unfortunately, and especially in women, such conditions can result in unwanted hair in different parts of the body, namely on the face (on the upper lip and chin area), pubic hair, buttocks, and thighs. (3) If you need to remove hair that has appeared because of a hormonal imbalance, or if you simply want a fresher, smoother hairless appearance in a particular area, look no further than a laser hair removal treatment at 17 Med Spa. We'll provide you with the treatment(s) you need and help you achieve softer, smoother skin.
Benefits of Laser Hair Removal Treatment
Selective Photothermolysis
Laser hair removal uses a process called selective photothermolysis. This is a microscopically targeted injury to the treated area at a specific wavelength, that minimizes damage to the surrounding tissues. (1) The laser exposes each hair follicle to pulses of light energy. Melanin, the pigment in the hair shaft, converts this energy to heat and the structure is subsequently destroyed. The heat generated by this type of treatment significantly impedes the follicle's ability to grow new hair, leading to long-term hair removal and smoother skin in the treated area.
One of the fastest ways to remove unwanted hair
Professionally conducted, in-office procedure
Precisely targeted treatment of individual hair follicles
Reduces ingrown hair incidence during hair regrowth
Long-term results remain for weeks after treatment
Candidates for Laser Hair Removal
People with thick, dark hair and paler skin may benefit most from laser hair removal. And, before the advent of current laser hair removal devices, people with darker pigmented skin would have limited treatment options available to them. However, advances in laser technology mean it's a choice available to more people than ever before. (4) Both the Spectrum and the Soprano laser devices allow for customizable treatments for all skin types. Laser hair removal is not recommended for people who:
Are you currently on or have recently been on certain acne medications
Have keloid scarring (raised scar tissue)
Have active HSV-1 or HSV-2 (cold sores, or genital herpes)
Have, or have had skin cancer
Are pregnant
Personal Consultation
At 17 Med Spa, we provide first-class in-office beauty procedures for busy people. To make sure laser hair removal is the right service for your circumstances, please come and speak to one of our skin experts at either our Cupertino or Buena Park offices. We'll ask you to provide some brief details about the areas you'd like to treat, then take a look at it. Feel free to ask lots of questions at this initial meeting regarding any aspect of the treatment. Additionally, please tell us if you are particularly prone to scarring, or if you have any skin conditions we should be aware of. If you have more than one area you'd like us to work on, please let us know – you may be able to have a combination treatment! Once one of our medical staff has thoroughly assessed each area, and given the O.K. for laser hair removal, we will schedule your appointment.
Preparation
Every patient has different laser hair removal requests. We ask patients to prepare for treatment in the following ways.
Do not pluck or wax the area for at least six weeks ahead of treatment.
Avoid tanning beds and self-tanning products at least six weeks prior.
A few days beforehand, avoid NSAIDs, blood thinners, and some specific dietary supplements.
Shave the area two days before the procedure.
Arrive on the treatment date with clean skin (shower as usual, but do not apply creams/moisturizers/sunscreen)
Laser Hair Removal Procedure
During a laser hair removal procedure, one of our technicians will guide the laser handpiece in the area for treatment. They will ensure that every individual hair follicle in the area is exposed to laser light energy and take the time to ensure a comfortable, even hair removal session. Patients describe the feeling as similar to an elastic band lightly snapping onto the skin's surface. Laser hair removal causes some discomfort, but it is temporary, and substantially less painful than any waxing technique! What's more, you may find that after a few treatments, you'll experience even less discomfort.
What Not to Do After Laser Hair Removal
Wash gently, do not scrub or exfoliate the treated area
Do not pick, pluck or scratch the area
Always wear sunscreen before exposure to direct sunlight
Results of Laser Hair Removal
After laser hair removal, you may need to wait several days before seeing the results but don't worry – they'll come! This is because hairs do not immediately fall out after laser exposure. However, when they do fall out, you'll see the silky smooth, hairless skin you desire.
Book Multiple Sessions
Hair growth happens in a continuous cycle, so you will need more than one session. Laser treatment is most effective in the initial growth period of each hair, which means many of our patients return for regular sessions every 4-6 weeks for the best long-term results.
Cost of Laser Hair Removal in Cupertino
Every laser hair session addresses the individual needs of each person who requires it, and no two treatment plans are identical. You may want to focus on just one area, or target a few, depending on your circumstances. That's why treatment costs will vary. You'll be able to discuss this, and any other aspects of your hair removal treatment at your personal consultation with us.
Whether you're getting ready for a special occasion, or just treating yourself, we're here to provide hair removal treatments, skin perfecting procedures, injectables, thread lifting, and more. If you're looking to spoil that special somebody in your life, or you want to pamper yourself a little, why not indulge in a 17 Med Spa gift voucher! Also, be sure to read the updates on our website and join us on Facebook, Twitter, and Instagram for photos, information, and updates on the latest beauty trends and procedures.
FAQ
Is laser hair removal suitable for darker skin?
Yes! It's always best to speak to a skin care professional first, but advances in laser hair removal technology mean that it's safe for all skin types. If you want to remove hair from any area of your body, discuss your options with a skin care expert to discover the best procedure for your skin type.
How long is a laser hair removal session?
The length of a laser hair removal session depends on how much hair you want to remove, and where that hair is located. Typically sessions can last from a few minutes to around one hour.
Is laser hair removal better than bleaching upper lip hair?
It's ultimately down to personal preference. Some women prefer to bleach their upper lip area because the hair is finer, and doesn't show when they do so, but this may not be a good solution for everyone. After all, bleaching the hair doesn't mean it goes away! Laser hair removal is suitable for upper lip hair and many other areas of the face (such as the chin) and other areas of the body such as the neck, arms, neck, and body.
Can I get laser hair removal for toe hair?
Yes! If you have embarrassing toe hair that you don't want to pluck out (ouch!) or shave any longer, consider laser hair removal for longer-lasting, effective results.
References