Excel V
Consultations offered at our two convenient locations in Buena Park and Cupertino, CA
Excel® V is a high-powered laser that targets abnormal blood vessels and skin pigmentation concerns. It's an effective treatment for patients frustrated by dark spots and redness, among many other common skin conditions. Excel V is the first laser to offer two ultra-precise wavelengths and three distinct operating modes for treating a wide range of superficial and deep skin concerns safely and effectively. As a result, the Excel V can treat everything from veins to wrinkles and beyond. So are you tired of living with embarrassing skin conditions? Ready to go makeup-free? Ready to show off those legs all year round?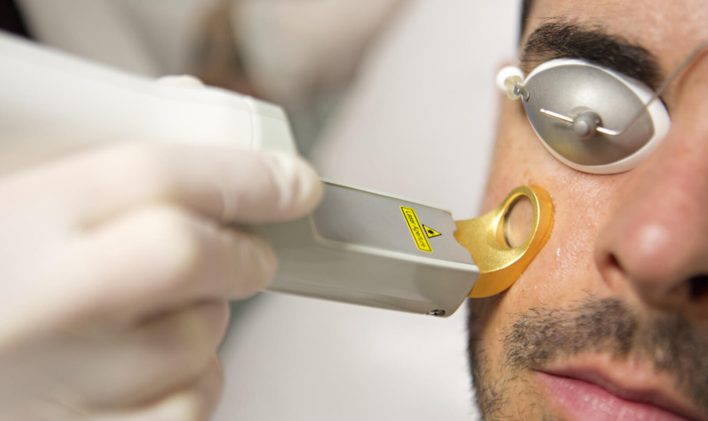 Experience Excel V's skin-rejuvenating and corrective power by contacting the 17 MedSpa offices to schedule a consultation. Patients in Buena Park can call (714) 224-9010 or (714) 332-7009, and patients in Cupertino, CA, can call (408) 663-8701. You are also welcome to contact us via our online inquiry form.
One Laser to Rule Them All
Excel V is a heavyweight laser that addresses some of patients' most common skin concerns. The system uses two wavelengths– 532 nm and 1064 nm- to target surface and deep vascular conditions and pigmented lesions and also provides incredible skin rejuvenating benefits.
Excel V Technology
The Excel V laser uses a unique, patent-pending, dual-wavelength, long-pulse Nd: YAG laser system. Nd: YAG stands for neodymium-doped yttrium aluminum garnet (you asked!), a specific kind of garnet crystal used as a medium for solid-state lasers.
The laser targets colored cells that fall in the red, purple, blue, or brown spectrum, such as those that make veins, birthmarks, and dark spots visible. These are known as chromophores, and because they are darker than the surrounding cells, they absorb the laser energy, which creates a thermal effect that eventually destroys them.[1] Hemoglobin, which is found in our blood, and melanin, which gives our skin its color, are examples of chromophores. Once the darkly pigmented cells are destroyed, they are replaced by normally-colored cells, and the skin concern is resolved.
Two Different Handpieces
The Excel V has two different handpieces for different treatments. The first handpiece is the Genesis V™. Using either 532 nm or 1064 nm ND: YAG laser energy, this handpiece stimulates collagen production, improving the appearance of wrinkles and other signs of aging. The second handpiece is the CoolView™, which also delivers both the 532 and 1064 nm wavelength, but features a zoom spot capable of adjustments from 2-12 mm. In addition, the integrated sapphire cooling of the CoolView device optimizes patient comfort and safety by keeping the treatment area cool.
How Deep is Your Wave?
Exactly how deep do the different wavelength nanometers go? Well, to put your mind at ease, here's what you need to know [2]:
532nm penetrates mid-way into your epidermis.
585-600nm penetrates to the start of the dermis layer.
694 nm – 1064 nm penetrates the dermis affecting varying depths of dermal vessels; 1064 penetrates just above the subcutaneous level.
Some patients wonder about the safety of using a laser on their skin. If this doesn't answer your questions, give us a call! We'd be happy to answer any of your specific questions about this incredible technology.
What are the Benefits of Excel V?
Excel V has many benefits for patients in Buena Park, Cupertino, and the surrounding areas. Not only is the treatment safe and effective, but it is also fast and convenient. [3] Excel V treatments take under an hour to complete, and no downtime is required afterward. You can immediately resume your normal activities following your treatment. Best of all, Excel V uses wavelengths that are safe for all skin tones, even darker complexions. [4]
Vascular Conditions
Excel V is used to treat a variety of skin conditions that include:
Rosacea [3]
Veins of the face, legs, and periorbital areas
Venous malformations
Angiomas
Port wine stains
Hyperpigmentation/Sunspots
Scarring
Poikiloderma
Bruising
Inflammatory Acne
Benign pigmented lesions
Excel V is even appropriate for small-area hair removal. The Excel V removes hair by targeting the melanin in the hair shaft. [5]
Rejuvenation
In addition to treating vascular and pigmented conditions, Excel V also offers anti-aging and skin rejuvenation benefits. For example, the Genesis V handpiece can stimulate collagen production and provide an overall tightening effect to the skin, which can help improve the appearance of fine lines, wrinkles, and lax skin.
Additional Benefits
The CoolView spot size adjusts from 2-12 mm, so even the smallest areas can be targeted.
Because the Excel V is a long-pulse Nd: YAG laser, it can safely and effectively treat large areas quickly.
The Excel V can address up to 20 symptoms of all skin types.
Your skin will benefit significantly from Excel V treatments, and you will see a visible improvement in the appearance of your skin. So if you are interested in learning more about Excel V or would like to schedule a consultation, please contact our office today.
Treatment Areas
Excel V can treat skin in any area of the body, including the following areas:
Face
Neck
Decolletage
Back
Arms
Hands
Legs
Feet
Ideal Candidates for Excel V
Most people are good candidates for Excel V treatments. However, there are a few things that our team will take into consideration when determining whether or not this treatment is proper for you. Some of the things that we will consider:
Your skin's condition
The location of the concerning condition on the body
Your medical history
During your consultation, our team will thoroughly examine your skin and ask you about your medical history and goals for treatment. We will then develop a treatment plan tailored to your needs.
Excel V is an excellent treatment option for those looking for a safe, effective, and convenient way to improve the appearance of their skin.
Unfortunately, Excel V is not suitable for everyone. There are a few things that will make you ineligible for this treatment, including:
Pregnancy
Nursing
Active infections
Sensitivity to light
If you have questions about Excel V or want to schedule a consultation with our team, please contact us today. We look forward to hearing from you and helping you achieve your aesthetic goals.
Personal Consultation
Our 17 MedSpa team will assess your skin condition during your personal consultation and discuss your treatment options. We will also answer any questions that you may have about the treatment or any other services we offer. If Excel V does not meet your skin care goals, we have the knowledge and service menu to suggest something that will. To schedule a consultation, please contact our office today.
We look forward to meeting you!
Preparation
There is no special preparation required for Excel V treatments. However, we do recommend that you avoid sun exposure before your treatment. Sun exposure can make the treatment less effective and increase the risk of side effects.
Please contact our office if you have any questions about preparing for your treatment. We will be happy to answer your questions.
The Excel V Procedure
Excel V treatments are quick and easy; the procedure itself only takes a short time to complete.
Our 17 MedSpa team will use the Excel V laser to target the treatment area during your treatment.
First, we will clean the area being treated.
Next, we will apply a gel that will help to protect the skin and allow the laser to be more effective.
Once the gel has been applied, our team will begin the Excel V treatment. The laser will be passed over the treatment area multiple times. The number of times will depend on the condition being treated and the treatment settings.
After your treatment, the gel will be removed from your skin.
Your skin may be red and swollen, but this should resolve within a few days. There is no downtime associated with Excel V treatments. You can return to your normal activities immediately after your treatment. However, you should note that your skin may appear irritated after treatment, so do not schedule your appointment too close to an important event.
Recovery
After your treatment, we recommend you avoid sun exposure and wear sunscreen outdoors; this will help protect your skin and prevent the treated area from becoming irritated.
It is also essential you avoid using any products that contain retinoids or other irritating ingredients. These ingredients can cause the treated area to become irritated and can make your Excel V results less visible.
If you have any questions about your recovery, please contact our office. We will be happy to assist you.
What are the Results of Excel V?
You will begin to see results from your Excel V treatments within a few days. However, it may take several weeks or months for the full effects to be visible.
Most people only require a single treatment to achieve their desired results. However, some people may need multiple treatments. We will discuss your treatment plan with you during your consultation.
The results of your treatment will depend on the condition and your treatment goals. For example, patients who use Excel V to treat a skin condition like port wine stains or hyperpigmentation may see dramatic results. In contrast, those treating fine lines and wrinkles may see more subtle changes that slowly continue to improve as collagen generation is boosted.
What is the Cost of Excel V in Buena Park, CA?
The cost of your Excel V treatment will depend on the number of sessions you need and the size of the area being treated.
To get an idea of what your treatment will cost, we recommend scheduling a consultation with one of our expert providers. After assessing your skin and goals for therapy, they will be able to provide you with an accurate estimate.
FAQ
Does Excel V hurt?
No, Excel V treatments are not painful. You may feel a slight cooling sensation as the laser beam passes over your skin, which is typically well tolerated by patients.
How long does each treatment take?
Excel V treatments are quick, typically lasting between 15 and 30 minutes.
How many treatments will I need?
The number of Excel V treatments you will need will depend on your goals for treatment.
Will the laser hurt my eyes?
No, we will provide you with special glasses during your treatment to protect your eyes from the bright light emitted by the laser.
How long do the results last?
Your Excel V treatment results will depend on the condition and your treatment goals. However, most patients enjoy long-lasting results after a series of treatments.
References