Ultherapy
Consultations offered at our two convenient locations in Buena Park and Cupertino, CA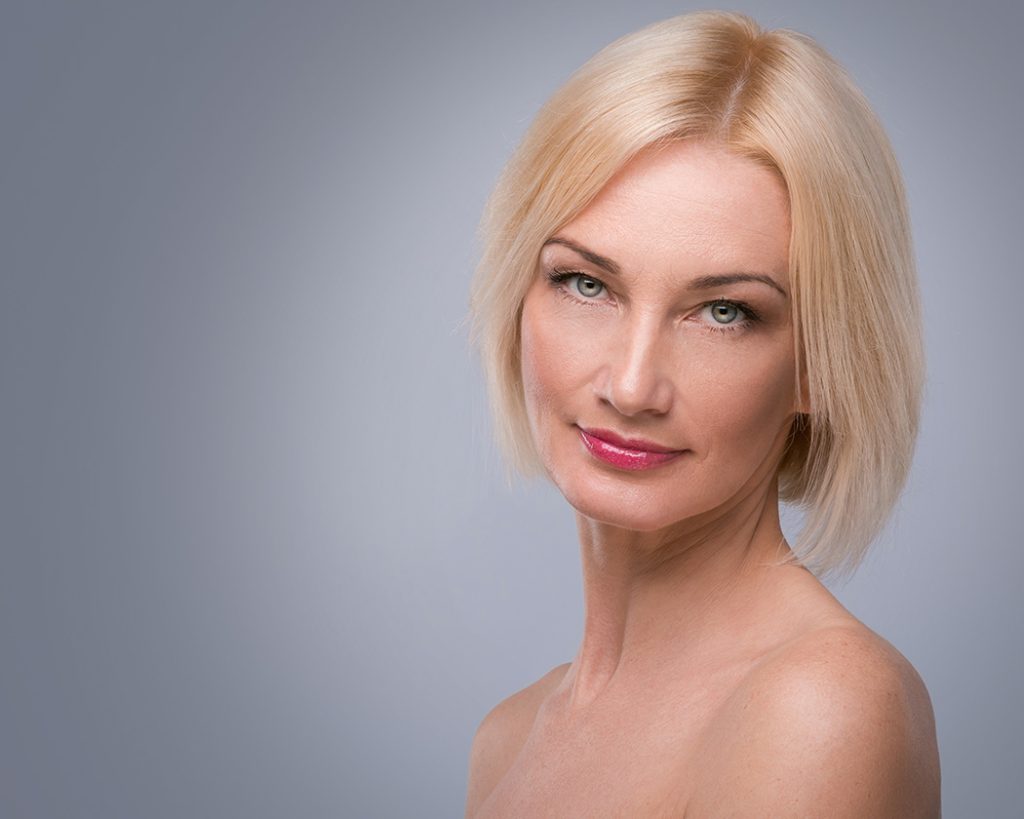 Ultherapy is a safe, reliable, non-invasive treatment using focused ultrasound energy to tighten and lift loose, wrinkled skin. Ultherapy has quickly become the gold standard for skin rejuvenation without downtime or surgery. And in 2009, Ultherapy was the first non-surgical skin tightening device to be FDA approved. Ultherapy offers precise control to address many common skin concerns associated with aging. Additionally, combined with other treatments, it can improve the appearance of atrophic acne scars, stretch marks, and cellulite. Safe for all skin types, this treatment will boost collagen and elastin production, so your skin will continually improve after a single session.[1] The best part? Ultherapy treatment is completed in about 90-minutes without interrupting your busy schedule.
17 MedSpa offers Ultherapy sessions to our patients in Buena Park and Cupertino, CA. Still, you can't experience an aesthetic breakthrough like this until you schedule a consultation with a member of our dedicated team. Share your concerns so we can determine if Ultherapy is right for you. To schedule an appointment at our Buena Park office, call (714) 224-9010 or call our Cupertino office at (408) 663-8701. Additionally, you can fill out our contact form, and we will call you back at our earliest convenience.
A Wrinkle…? It's Time
Wrinkles are a natural part of the aging process, but that doesn't mean we have to like, or even accept their arrival. Fight Father Time with Ultherapy energy!
Why Does Skin Wrinkle?
There are a few reasons our skin appears less smooth and firm as we age. Genetics, declining hormones, and UV exposure can all impede the skin's ability to repair and regenerate.[2] Even with diligent sun protection, aged skin can appear thin, dry, and finely wrinkled. Conversely, sun-baked skin shows deep lines, sagging, and a rough texture. 
But, don't take wrinkles lying down! Certainly, you've reached for the latest and greatest lotions and potions that offer a solution to your skin concerns. Unfortunately, you may as well have flushed your money down the drain. These ointments simply can't travel deep enough to reach the building blocks of youthful skin. These building blocks are called fibroblast cells. They live deep in the skin, and when we're young, they are strong and able to produce collagen. Collagen, the beauty industry buzzword, is vital because collagen fibers create smooth, youthful skin. Unfortunately, aging collagen fibers cause a breakdown between the dermis and epidermis; the result is wrinkling, sagging, dry, and tired skin.
Fibroblast cells need deep stimulation to reverse the signs of aging.
What is Ultherapy?
Ultherapy is a hand-held device that sends micro-focused ultrasound waves into the deepest layers of the skin. Our knowledgeable nurses at 17 MedSpa can customize your session to adjust the depth of focus and number of treatment passes, producing incredible results for various ages and skin types. Furthermore, Ultherapy is effective for both preventative and restorative treatment. [1] 
Ultrasound technology has been safe and effective for tissue tightening and shrinkage for over a decade. [1] By creating a safe and discrete thermal effect in the fascia (connective tissue), collagen fibers contract, resulting in shorter, thicker bands. [1] Ultherapy also initiates the body's repair response, resulting in collagen production. Your skin will lift, tighten, and look smooth and youthful. Your results will last for years because the body continues to create new collagen fibers!
What are the Benefits of Ultherapy?
The beauty of Ultherapy treatment is that there is no surgery or downtime. Surgery is a viable option for treating the signs of aging, but it is not for everyone. It requires a serious commitment and carries a degree of risk, plus the recovery can put your life temporarily on hold.
Ultherapy is non-invasive and has been proven to produce refreshing results. In addition, there is no downtime after this simple, safe, and effective procedure.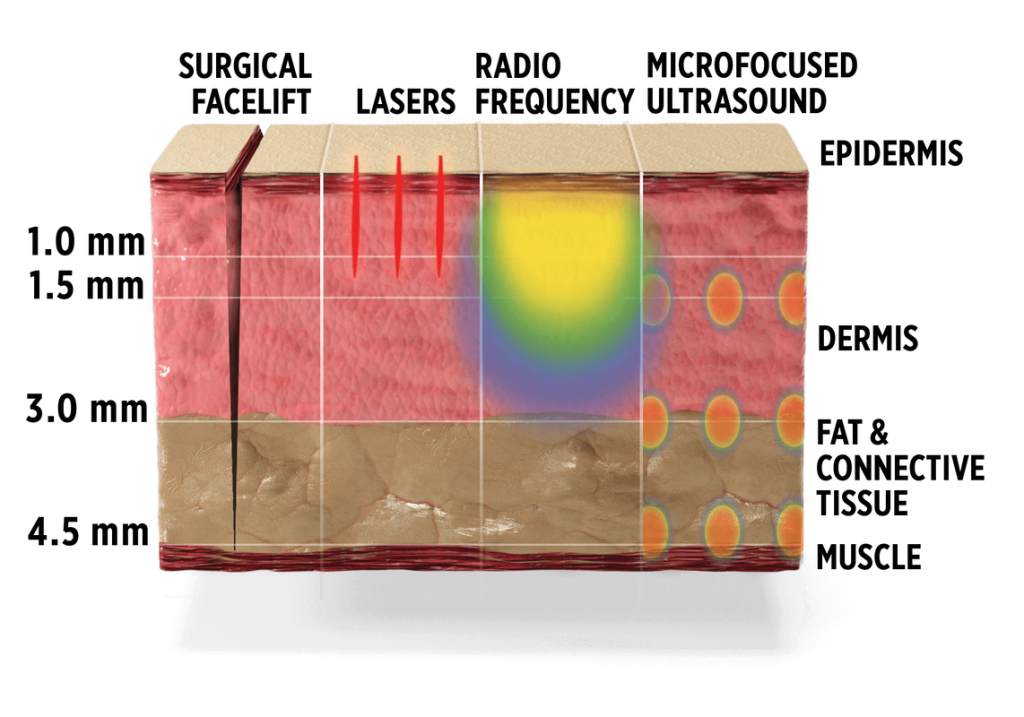 Unlike some cosmetic procedures that use lasers to target pigmentation, Ultherapy uses ultrasound waves, which means it is safe and effective for all skin types, including darker tones! [1] Ultherapy can treat the face, neck, and decolletage skin. Patients may experience a slight tingling or warming sensation as the 17 MedSpa nurse passes the device over any wrinkled and loose skin. 
Each Ultherapy session lasts about 90-minutes, after which you can resume your daily routine. You will see results very soon after treatment including tightening skin, and fewer visible wrinkles. Your results will continue to improve as collagen regeneration sustains.
Ideal Candidates
Candidates for Ultherapy are unhappy with their skin's appearance due to age and environmental degradation. Additionally, ideal candidates are seeking a rejuvenating effect without surgery. You'll discuss your expected outcome from Ultherapy treatment with your 17 MedSpa nurse so you will be pleased with your results. Ultherapy is safe for all skin types and patients of any age. Still, some disorders and deficiencies may affect results, so be sure to disclose your complete medical history during your consultation.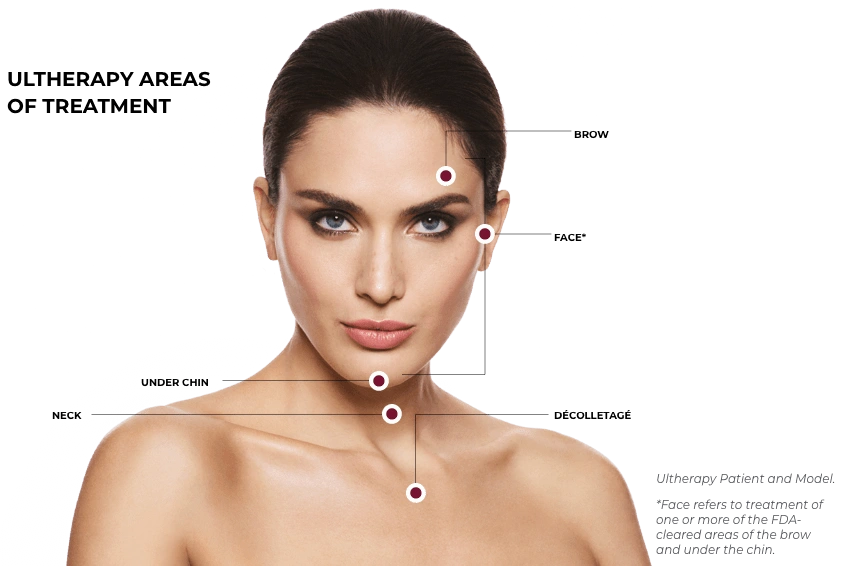 A Consultation at 17 MedSpa
Your consultation will start with a review of your medical history and a discussion about your skin concerns. After this, we will know if Ultherapy treatment is right for you or if there is a better solution to meet your needs. We provide a nice selection of services to meet your needs while accounting for safety and efficacy. Discuss with your nurse if you have connective tissue disorders, immune deficiencies or if you are taking anti-inflammatory or immunosuppressive medicines. [1] Because Ultherapy does not address every aspect contributing to an aging face, your nurse will suggest additional treatments if necessary to address issues connected to bone, muscle, and volume loss.
Preparing for your Procedure
There is very little prep involved leading up to your Ultherapy session. Arrive on the day of your treatment with the treatment area free from skin care products and makeup. Because there is a small amount of discomfort involved with treatment, we may recommend taking pain-relieving medicine before your appointment. During your session, your nurse may apply a topical anesthetic to ease discomfort. Additionally, some patients choose to listen to music while they receive their treatment as a helpful distraction technique.
Ultherapy After-Care
Your skin might be a little tender following treatment, but the discomfort and swelling will subside in a few days. You can promote your healing skin by:
Drinking plenty of water
Eating healthy foods
Applying sunscreen
Avoiding harsh cleansers and exfoliants
During your consultation, you will receive a complete list of after-care procedures and precautions. After your appointment, you can book additional sessions as suggested by your 17 MedSpa nurse.
Results
Your skin will appear refreshed as the new collagen replaces damaged fibers. As a result, wrinkles will disappear before your eyes, and your skin will become smoother and tighter. The youthful face you see in the mirror can completely change your feelings about yourself, boosting energy and confidence. Your body will continue to support the results, so you will see these results for years to come. To book your appointment for Ultherapy, call our Buena Park office at (714) 224-9010 or our Cupertino office at (408) 663-8701. Additionally, you can fill out our contact form, and we will call you back at our earliest convenience.
Complementary Procedures
Consider combining treatments to boost results! For same-day treatments, Ultherapy should be performed before undergoing any additional procedures. [1]
Lip Flip
Botox is a safe treatment to combine with your same-day Ultherapy session. Our Lip Flip procedure is another excellent way to address your cosmetic concerns without surgery. The 17 MedSpa Botox specialists have designed this unique technique by injecting a small amount of Botox in the slight dip in the upper lip (also called the Cupid's bow) to relax the muscles and produce a pout. Ask your nurse if Botox can produce desired results in other areas of your face.
Thread Lifting
To boost results, speak with your 17 MedSpa nurse about receiving a threadlift once healing from Ultherapy is complete. Threalifting is a minimally-invasive treatment to produce lift and further boost collagen production – 17 MedSpa uses MINT PDO for our threadlifts. These threads are made from a biocompatible substance. They are placed under the skin at tactical points to tighten and contour. Call us to find out more!
How Much Does Ultherapy Cost in Buena Park?
The cost of Ultherapy will vary based on the extent of your treatment. During your consultation, we will go over the treatment price and the corresponding procedures you wish to add. If you have any questions, contact us at (714) 224-9010 or (408) 663-8701.
References
Fabi SG, Joseph J, Sevi J, Green JB, Peterson JD. Optimizing Patient Outcomes by Customizing Treatment With Microfocused Ultrasound With Visualization: Gold Standard Consensus Guidelines from an Expert Panel. Journal of drugs in dermatology: JDD. 2019;18(5):426-432. https://pubmed.ncbi.nlm.nih.gov/31141851/
MAKRANTONAKI E, ZOUBOULIS CC. Molecular Mechanisms of Skin Aging: State of the Art. Annals of the New York Academy of Sciences. 2007;1119(1):40-50. doi:10.1196/annals.1404.027