RevLite SI
Consultations offered at our two convenient locations in Buena Park and Cupertino, CA
What it Does
The RevLite SI is the new gold standard in laser technology. It maximizes efficiency and comfort for patients by utilizing multiple wavelengths during treatments. The wavelengths used with this machine allow for multiple treatment options while prioritizing focused energy and safety. RevLite SI send pulses of energy into your skin where it can break down unwanted parts in the layers of the skin to safely get the achieved look.
Treatment Options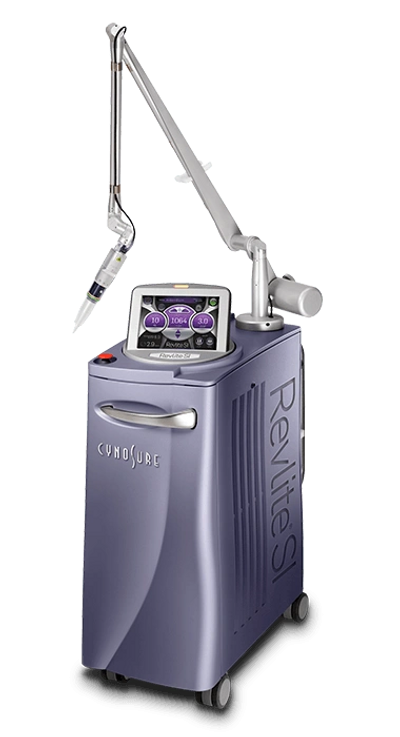 RevLite SI can help with skin tone correction, skin rejuvenation, and tattoo removal.
Skin tone correction is not only limited to hyperpigmented spots due to sun damage or hormonal changes but it can include unwanted freckles, birthmarks, pigmented lesions, darkened underarms, knees, and elbows.
Skin rejuvenation is an ongoing process to keep your skin looking youthful and healthy. RevLite SI utilizes certain wavelengths to reach deeper into the skin to stimulate collagen and elastin production. Having a higher concentration of collagen and elastin in the skin gives way to more elastic, firm, and youthful looking skin.
RevLite SI is able to remove tattoos with all colors due to the multiple wavelength functions that the machine has.
Treatment Process
The treatment process with RevLite SI starts with cleansing the skin. All makeup is taken off and in certain cases light exfoliation is necessary to remove all dead skin so that the treatment can penetrate the skin better. After cleansing, the skin is moisturized with certain serums with active ingredients to enhance the treatment. Once the skin is fully prepped, the laser treatment will begin. For those who have never experienced laser treatments before, the treatment might feel slightly painful. The best way to combat that would be to use cold compresses and anti-inflammatory creams.