Hair Restoration with HAIRestart
Consultations offered at our two convenient locations in Buena Park and Cupertino, CA

The Fotona HAIRestart is a hair restoration treatment that stimulates natural hair growth. The gentle laser energy is applied to the scalp, where it causes dormant hair follicles to produce more hair. It also causes cellular regeneration in the surrounding tissues, so that the scalp is healthier. This comfortable treatment is completely non-invasive, so there are no needles, incisions, or painful recovery period required. And, unlike topical or oral medications for hair loss, there are no undesirable side effects! If you're one of the many people disappointed by thinning hair, you owe it to yourself to explore all your options. HAIRestart is just one of the effective, energy-based treatments offered at 17Med Spa. To learn more about this unique hair restoration treatment or the other services offered at our Cupertino and Buena Park locations, schedule an appointment for a consultation. You can reach our Buena Park location by calling (714) 224-9010 and (714) 332-7009, or our Cupertino office by calling (408) 663-8701.
About HAIRestart
The Fotona system releases controlled pulses of laser energy, and because it improves the overall health of the scalp and creates new hair follicles, it can effectively treat a variety of hair loss disorders. During hair loss, the normal cycle of hair growth is disrupted, and hair follicles remain dormant. But normally, there are three phases of hair growth.
The anagen phase is when hair is actively growing, and the hair follicle produces the fibers that become a hair. The anagen phase can last several years, but not all hair follicles are in the same phase of growth at any one time, which is why we normally might lose a hair or two, but not our entire head of hair all at once!(1)(2) The catagen phase is when the hair stops growing, is shed, and the follicle transitions into the dormant phase, which is known as the telogen phase. There are many reasons that hair follicles become dormant. When hair falls out and the follicle is no longer able to produce additional hair, thinning hair becomes apparent. Hair loss has a variety of causes, but the most common form of hair loss is pattern baldness, also known as androgenic alopecia. This condition is genetic and affects up to 70% of the population.(3) The hormone androgen causes hair follicles to shrink, and shortens the anagen phase of the hair growth cycle. Other causes of hair loss include malnutrition, stress, and hormone fluctuations such as those that occur during pregnancy. HAIRestart treatment forces dormant hair follicles to reenter the anagen phase so that hair can be regrown. The laser energy is able to create a thermal effect deep in the scalp without damaging the skin. This heat causes the body to release important growth factors, so that the body naturally produces important new tissues such as blood vessels. Better circulation to the scalp results in improved hair growth. But that's not the only way that HAIRestart combats hair loss – the circulating growth factors also lead to the production of new hair follicles in the scalp, so patients can look forward to new hair growth and thicker coverage in thinning areas.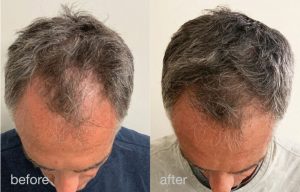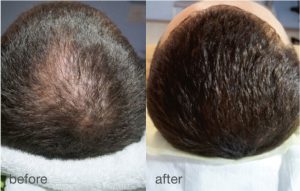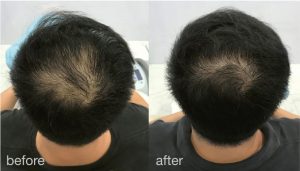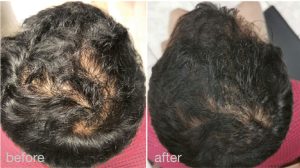 Benefits
Whether you've noticed the first signs of hair loss, or have been struggling with thinning hair for years, treatments with Fotona's HAIRestart offer considerable benefits that other forms of hair restoration simply can't! Unlike follicular unit extraction, which is performed during hair transplant surgeries, HAIRestart is completely non-invasive, meaning there is no discomfort or recovery time. HAIRestart works with the body's natural regenerative processes so that patients are able to regrown their own hair naturally. Other benefits of this unique hair restoration treatment include: 
Reduces existing hair loss and prevents future hair loss
Creates the production of new hair follicles so that patients have thicker, denser hair coverage
Stimulates active existing hair follicles so that strands are thicker and more robust
No need for ongoing and time-consuming daily hair treatments
No adverse side effects as caused by medications
Fast treatments that don't require downtime or recovery
About Fotona HAIRestart
Fotona's HAIRestart® laser hair growth stimulation uses carefully controlled pulses of laser energy, so treatments are safe, comfortable, and effective. Today, there are a variety of lasers used for medical and aesthetic treatments. Each is designed for its specific purpose by controlling the amount of energy released from the device. Ablative lasers, like those used for skin resurfacing treatments, use high-frequency energy, so that only the outer layers of the skin are treated. The laser energy heats the water present in skin so that when the water vaporizes, the outer layers of dull, damaged skin cells are destroyed, and new, fresh skin is allowed to surface. Non-ablative lasers like those used in HAIRestart use a lower-frequency wavelength, so that the laser energy is able to penetrate deeper into the dermis. The body registers this heat as an injury, and responds by releasing growth factors that lead to the production of new, healthy tissues.(3)
Candidates for HAIRestart
Adult men and women of all ages are good candidates for HAIRestart! Studies have shown that regardless of the stage of hair loss, or the reasons for their thinning hair, this treatment is an effective way to stimulate thicker, more robust hair growth. Fotona's HAIRestart is safe for all skin and hair types.
Personal Consultation
During your personal consultation, you'll meet with a medical professional who will listen to your concerns about hair loss, examine your scalp, and explain the results that you can expect from this treatment. They'll be able to recommend the best approach and the number of sessions needed to achieve hair regrowth. 17Med Spa offers a wide range of aesthetic treatments, so if you have additional concerns such as dynamic wrinkles, skin laxity, or pigmentation issues, they'll also be able to recommend additional treatments so that you can look and feel your very best! 
Procedure
During a HAIRestart treatment session, you'll be given special goggles to protect your eyes from the laser light. The HAIRestart handpiece has teeth similar to that of a wide-toothed comb, and each tooth emits pulses of laser energy. The handpiece is drawn through the hair as if it were simply being brushed, while the laser energy penetrates deep into the dermis of the scalp. Sessions take about 30 minutes, and once you're done, you'll be able to return to your schedule and regular activities. Most patients require multiple sessions, which are spaced two weeks apart.
Results
Results from HAIRestart aren't immediate, since it is stimulating the natural hair growth cycle. However, within a few months, the improved blood supply, accelerated hair growth, and the development of new, hair-producing follicles will cause a visible increase in hair thickness and coverage, as well as a decrease in hair loss.
In one study, 94% of patients that underwent HAIRestart noticed better hair quality, and all of the patients in the study reported being satisfied with their results.(3)  Hair loss can have devastating consequences for your self-esteem, but with this effective hair regrowth treatment, there's no reason to live with thinning hair. Schedule a consultation at 17Med Spa and get started on regrowing natural, healthy hair. 
Corresponding & Complementary Procedures
Fotona is one of the leading laser device manufacturers in the world, and has been creating innovative laser energy-based products for nearly as long as laser treatments have been available. This European company produces lasers that are used in dentistry, gynecology, surgical procedures, and for a wide range of aesthetic uses. Patients that are interested in lifting, tightening, and restoring a radiant glow to aging skin can benefit from the Fotona4D system. 
How Much Does Fotona HAIRestart Cost in Cupertino?
The price of your hair regrowth treatment will depend on the size of the area that's been treated and the number of treatment sessions required to achieve your desired results. Following your personal consultation, we'll recommend a customized treatment plan so that you can get the full head of hair that you've been dreaming of.    
FAQ
Does HAIRestart work?
Several studies have shown that patients were able to attain noticeable improvements in areas experiencing hair loss. This treatment can also be combined with other hair restoration treatments like minoxidil and PRP.
Is HAIRestart painful?
HAIRestart uses gentle pulses of low-level laser energy. It's a non-ablative laser, so it doesn't damage the outer layer of skin or surrounding tissues. Patients in one study rated the discomfort at a 2 on a scale of 1-10. 
What's the difference between lasers for hair removal and HAIRestart's laser?
Laser devices are able to achieve different results based on the frequency of the laser wavelengths. When used for laser hair removal, the laser wavelength and the duration of its pulses are calibrated so that the darker-colored hair follicle conducts heat and is damaged. With HAIRestart, the thermal effect is diffused throughout the deep layers of the dermis, so that existing structures are undamaged, but the body responds by releasing growth factors, which leads to the production of new tissues that support follicular health as well as the production of new, additional hair follicles.
References
Hoover E, Alhajj M, Flores JL. Physiology, Hair. PubMed. Published 2020. https://www.ncbi.nlm.nih.gov/books/NBK499948/#:~:text=The%20growth%20of%20the%20hair
Oh JW, Kloepper J, Langan EA, et al. A Guide to Studying Human Hair Follicle Cycling In Vivo. Journal of Investigative Dermatology. 2016;136(1):34-44. doi:https://doi.org/10.1038/jid.2015.354
Day D, McCarthy M, Talaber I. Non-ablative Er:YAG laser is an effective tool in the treatment arsenal of androgenetic alopecia. J Cosmet Dermatol. 2022;21(5):2056-2063. doi:10.1111/jocd.14370